Think a-cappella and you think of Rockapella, the singing group who, as a result of their performance on the Spike Lee "Do it A-Cappella" TV special in 1991 (the New Yorker wrote that the best part of the show was Rockapella's version of Zombie Jamboree) spent five seasons as the house band for the game show Where in the World is Carmen Sandiego on PBS. Seen daily by over 10 million households, Rockapella delighted audiences of all ages with their on-screen antics and musical clues.
They have appeared on stage with Billy Joel, Sting, Don Henley, Styx and Warren Zevon at national venues including Madison Square Garden, Radio City Music Hall, Carnegie Hall and the Brooklyn Academy of Music. In addition to their TV and radio appearances Rockapella has performed solo concerts across the country.
We saw the guys within a month of moving to Las Vegas! They're so gracious about autographs and photographs.
Rockapella has long been popular in Japan. They have seven CDs released there and were voted the best debuting foreign act in 1992 as a result of their three CD recordings that year. Rockapella travels to Japan each year, performing to sold out concert halls.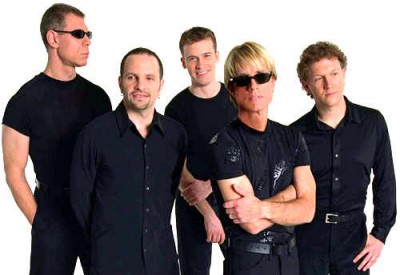 L to R: Barry Carl, Elliot Kerman, Jeff Thacher, Scott Leonard, Kevin Wright

Click their picture to go to their website!
Rockapella's singing style is unique, evolving from the initial street-corner barbershop harmony to their current mix of rock, pop, jazz and r&b. The group was formed in NYC in 1987 when four former members of the Brown University High Jinks began performing on the streets of Manhattan for the sheer pleasure of singing in close harmony (and whatever change got tossed into the hat). Soon they began to be hired for private and public functions, singing primarily barbershop harmonies. Julliard-trained bassman Barry Carl hopped aboard the vocal bandwagon in 1988 after a stint with the New York City Opera. High tenor Scott Leonard joined Carl and original members Sean Altman and Elliott Kerman in early 1991. The group has been performing with vocal percussionist Jeff Thacher since mid 1993. In March of 1997 Kevin Wright took over as first tenor, replacing Sean.