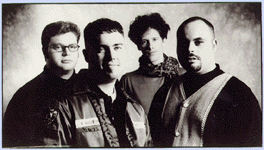 Barenaked Ladies is undoubtedly the coolest band on the planet. My husband and I have been fans for almost 8 years. They are a 5-man band from Canada who have made a big splash in America. BNL Fans tend to be a bit over the edge. We hang out after concerts to meet and talk with the guys, and it seems we all have web pages dedicated to them.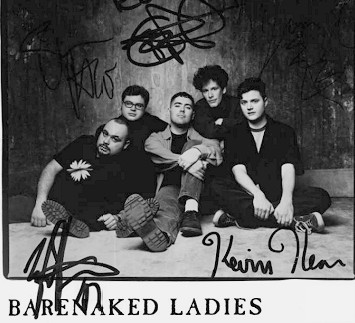 One note about MP3's and other recorded media of BNL: If it's a live clip, or a TV or Radio live appearance (like David Letterman) the guys think it's OK. They understand that the live show experience is something fans want to savor and trade. As long as bootlegs (in any media) are traded, but not bought or sold, they're cool with it. But any clips off Barenaked Ladies CDs are STRONGLY discouraged. As Ed Robertson, Lead Guitar and Co-Lead Vocal, told me after the concert at the SDSU Open Air Theater on 11/1/98 "The CDs are the only way we make our money. If you [fans] are making bootlegs of the concerts, that's OK, because we know you [fans] already have bought all of our CDs." Actually, he was a bit more explicit than that, but this is intended to be a "family friendly" site.
So here's some of the best BNL sites I know of. I'll update this as I find cooler ones. Please let me know if one of these is no longer available. Unfortunately, these sites have a tendency to go down or move or other such silliness.
| | |
| --- | --- |
| | |
| | |
| | |
| | |
| | Pics of Paul and I with the Ladies and Other BNL Pictures - coming soon, I promise! |